 Android Application Development Company
Through future-forward Android development services, our team delivers next-level Android apps which are nothing less than perfect.
Trusted by:
Android App Development Services
As the most widely used and trusted software for startups and emerging companies globally, our team ensures developing apps for your business that are one of their kind.
Android App Development Consultation
Android apps keep specific user bases and customer expectations in mind. Our consultant's team helps businesses meet customer expectations and develop an Android-specific user base.
Custom Android App Development
Our team utilizes a modern technology stack and data insights to provide our clients with unique and innovative Android apps.
Android UI/UX Design
Android is known as the most expensive ecosystem, with the maximum number of devices it can operate in. Our experienced designers, with their skills, provide a seamless experience to the market across all Android devices and versions.
Our Working Process
Our Working Process
Analysis And Research
To implement a product idea, our team begins with analyzing and researching the idea.
Implementation
Once analyzed, our team starts its implementation process.
Monitor The Result
The created product is consistently monitored by the team to check the working of applied services.
Case Studies
Looking for a team who could help you meet your app development requirements? Here's how we have helped various entrepreneurs in their journey.
BusRoute
Busroute.co offers bus booking and coach booking services in Uk. Like any business, they were operating using excel sheets. Vizteck started complete automation for its backend customer relationship management and supplier connections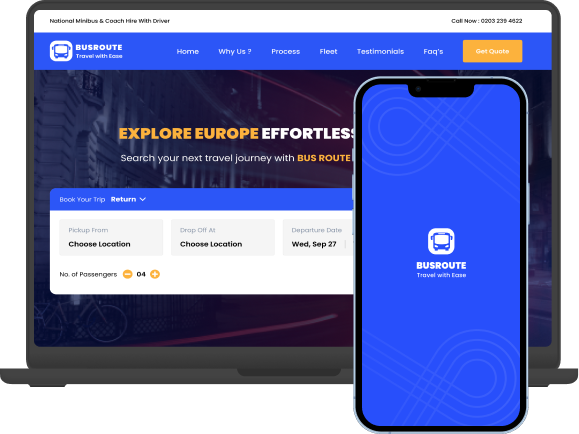 EaseFix
Easefix is a handyman, plumber, electrician, and platform for finding trades servicemen of all types. The platform is currently targeting the UK market. Vizteck Solutions created the app to find workers, workers bid on the job. A complete SEO-optimized website was also created to generate leads for the business via the website. All website leads directly go into the worker's applications to bid on.